Canon PG540 CL541 Black and Colour Combo Pack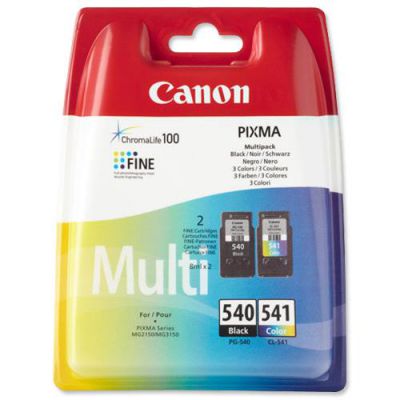 This Canon PG540 CL541 printer ink pack contains two cartridges - one black and one colour. Both the PG540 black and the CL541 colour cartridge will deliver professional quality, laser-like results. The reason for the incredible performance is the use of Canon's ChromaLife 100 pigment based ink that not only adheres exceptionally well to good quality paper but lasts a long time without fading. Whether you need to print business documents, university assignments or graphic heavy reports the ink in the Canon PG540 CL541 combo pack is ideal. Check below to see the list of printers you can use these cartridges in.
All products on this website are GENUINE branded originals and under warranty from the manufacturer.
Products may be split out of their retail packaging and sent in our streamline packaging. This is to ensure delivery is made first time through a standard UK letterbox.
---
For the following printers
---
Related products