Ink Cartridge Recycling - Just Ink and Paper

Printer ink gives us all the ability to produce our own prints either at home or in the office for a fraction of the cost a professional service would charge. Everything from business letters to treasured memories can be printed but there is an environmental consideration we all must make whenever we print. Firstly, we should consider the necessity of what we print and use paper that is responsibly sourced from sustainable forests. Secondly, and perhaps most importantly, we should consider the waste produced by empty ink cartridges and how to dispose of them in such a way that will have minimum impact on our environment. This is where ink cartridge recycling comes in.
For people at home in the office a set of empty cartridges may need to be recycled once every few months or, in some cases, annually. For us as one of the premier UK Ink Cartridge Suppliers the issue is far more serious. The Just Ink and Paper business doesn't use much ink to print documents but we do end up with unsold, out of date and discontinued stock. As wonderfully savvy as our buying department is and as eager as our customers are to buy our ink we do end up with a few items left over. The ink cartridges we can't sell have to be dealt with responsibly but we also like to do our bit to help people as well as the environment. To this end we recycle old ink cartridges via the British Red Cross.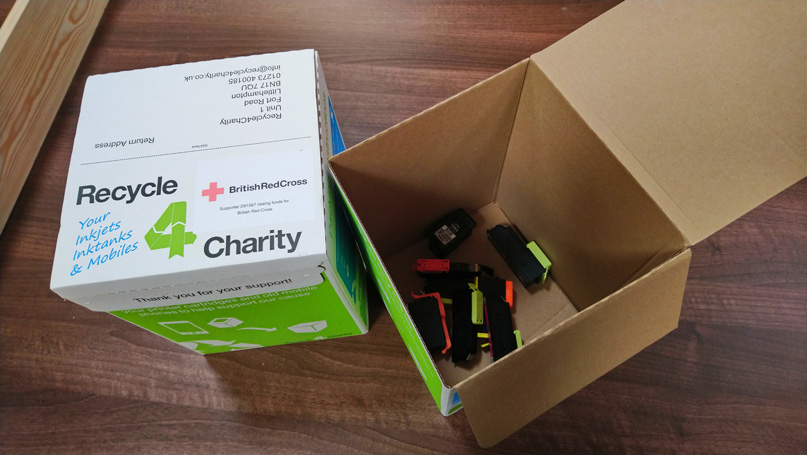 Recycling Ink with The British Red Cross
To make the most of recycled ink cartridges we work with Recycle for Charity to recycle Dell, Lexmark, Canon, Samsung, and HP printer inkjet cartridges. The British Red Cross do incredible charitable work and for each cartridge we recycle they recieve £1. Our most recent batch of ink cartridges to recycle contains approximately 200 units which will generate around £200 for charity. We have chosen to share this news with our customers to let you all know that you too can get involved in in cartridge recycling with the British Red Cross and turn your waste into charitable donations. Not only will your old ink cartridges be disposed of safely and responsibly but people in need will directly benefit.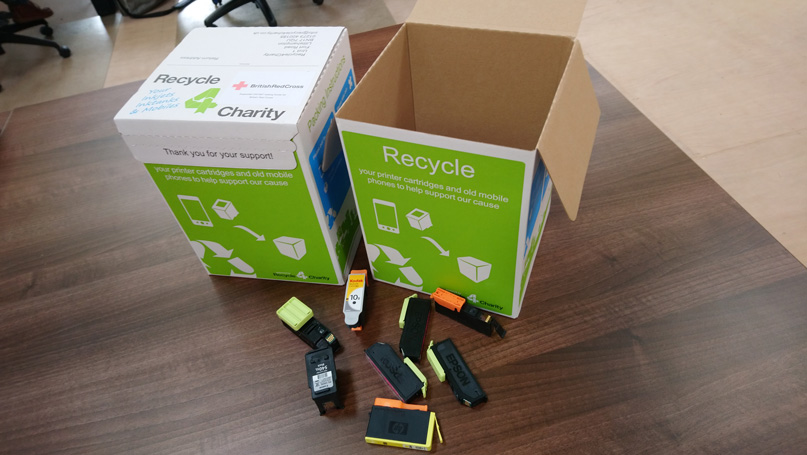 How Can You Recycle Your Old Printer Ink Cartridges?
If you would like to recycle your old printer ink cartridges you can take them to your local recycling center. If you would prefer to turn your unwanted waste into charitable donations Click Here to Register with Recycle4Charity. Don't let your waste go to waste!
Premier supplier of ink cartridges
Your recently viewed products