Epson T1634 Yellow XL Ink Cartridge (Pen and Crossword)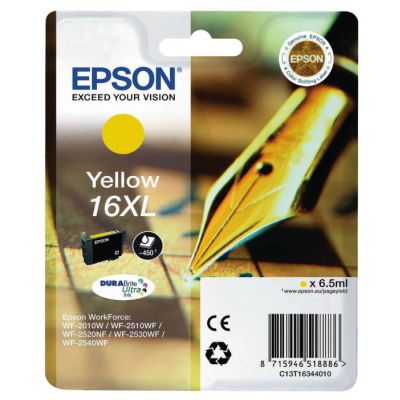 Specification
Colour

Yellow

Page Yield

450 pages
This Epson T1634 XL yellow ink cartridge fits a variety of the WorkForce WF series of printer. The XL in the name refers to the internal capacity of the cartridge and not its external dimensions as it will fit the same printers as the standard sized version. Simply put, this cartridge contains more DuraBrite Ultra ink and can print up to 450 pages depending on the type of printing being done. If you just need to buy the T1634 yellow that's great but, if you need a full set, you can also opt for the T1636 Pen and Crossword Multipack. Whichever option you choose standard delivery has no extra cost.
All products on this website are GENUINE branded originals and under warranty from the manufacturer.
Products may be split out of their retail packaging and sent in our streamline packaging. This is to ensure delivery is made first time through a standard UK letterbox.
---
For the following printers
---
Related products