Epson T1626 Multipack Printer Ink Cartridge (Pen and Crossword)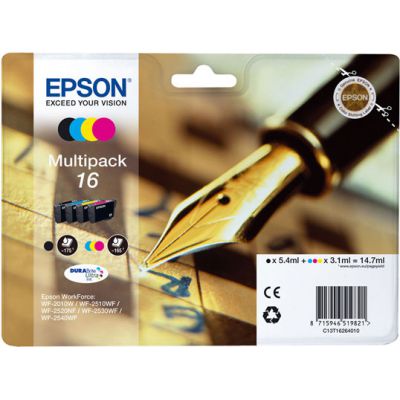 This is the Epson T1626 "Pen and Crossword" multipack and it contains all of the ink cartridges you need to produce business documents with a laser like appearance. Each of the cartridges in this multipack is filled with Epson DuraBrite Ultra ink that is specifically designed to be quick drying and smudge resistant. This resistance to smudging makes it ideal for printing double sided documents quickly on any standard printing paper. When you buy Epson ink cartridges from Just Ink and Paper you can have them delivered for free by selecting the standard shipping option or, for a small additional fee, next day delivery is available if your order is placed before 5pm.
All products on this website are GENUINE branded originals and under warranty from the manufacturer.
Products may be split out of their retail packaging and sent in our streamline packaging. This is to ensure delivery is made first time through a standard UK letterbox.
---
For the following printers
---
Related products