HP No 364 XL Black and Colour Multipack (N9J74AE)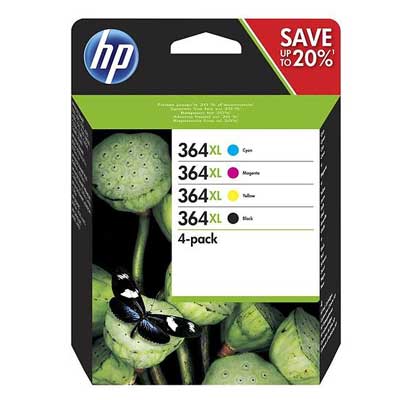 The HP No 364 XL multipack contains three colour and one black ink cartridge and it is suitable for a wide range of HP printers. This is a high capacity printer ink multipack and that means each of the cartridges contains a great deal more ink than the standard version though they fit the same printers in the same way. Being higher capacity has the additional benefit of lasting longer which takes away the need to place orders as regularly. You can order the No 364 XL multipack online now and, if you choose standard shipping, get it delivered free. Standard shipping takes 3-5 working days but there is the option to pay a little more and have your order delivered the next day (if you order before 5pm).
All products on this website are GENUINE branded originals and under warranty from the manufacturer.
Products may be split out of their retail packaging and sent in our streamline packaging. This is to ensure delivery is made first time through a standard UK letterbox.
---
For the following printers
---
Related products