Epson T0807 Multi Pack C M Y LC LM BK (Hummingbird)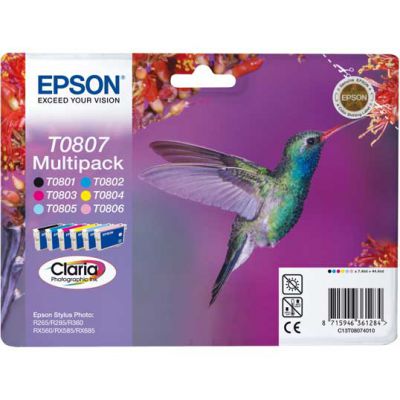 The Epson T0807 Hummingbird ink multipack is great value for money and contains all of the ink you need. In this pack you will find a black T0801, a cyan T0802, a magenta T0803, a yellow T0804, a photo cyan T0805 and a photo magenta T0806 ink cartridge all of which are filled with Canon's incredible Claria photographic ink. The prints you create with these ink cartridges will be as good, if not better than the prints you expect from a photo lab as long as you use Epson's own photo paper. Order online now with free standard UK delivery.
All products on this website are GENUINE branded originals and under warranty from the manufacturer.
Products may be split out of their retail packaging and sent in our streamline packaging. This is to ensure delivery is made first time through a standard UK letterbox.
---
For the following printers
---
Related products