Epson T0713 Magenta (Cheetah)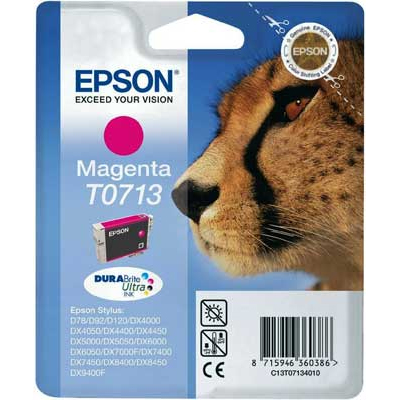 Specification
Colour

Magenta

Page Yield

280 pages
The Epson T0713 is a magenta ink cartridge from the Cheetah range and is filled with DuraBrite Ultra ink. This is ideal for the printing of business documents especially when duplex or double sided printing is required. The reason for this is that quick drying nature of DuraBrite ink. The pigment particles in the ink are coated in a special resin that allows them to stick to the surface of the print medium rather than being absorbed. This makes the printed document incredibly smudge resistant to the touch or when a highlighter is used to overwrite the text. Order a T0173 magenta ink cartridge online now and choose standard shipping to have it delivered for no extra cost.
All products on this website are GENUINE branded originals and under warranty from the manufacturer.
Products may be split out of their retail packaging and sent in our streamline packaging. This is to ensure delivery is made first time through a standard UK letterbox.
---
For the following printers
---
Related products