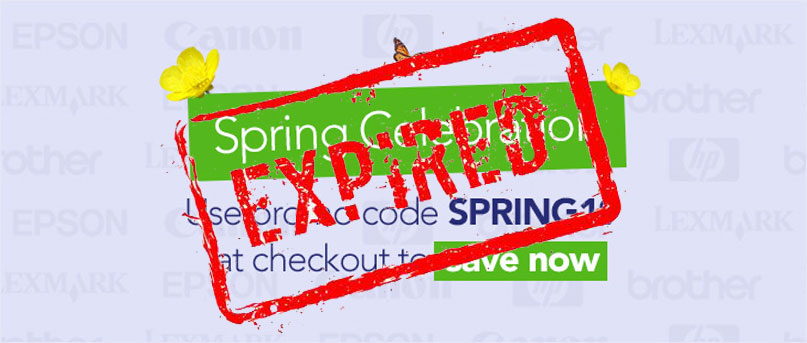 THIS VOUCHER CODE HAS EXPIRED
Check Back Soon for More Great Deals on Ink
Celebrate the New Season with Money Off Ink
We like nothing more than an excuse to celebrate and the coming of spring is just such an excuse. The clocks have changed, the evenings are brighter and it feels like summer is just around the corner. With so much to be excited about we'd thought it was the perfect opportunity to show our customers some love and offer everyone money off their next order. For the month of April you can get money off ink cartridges when you use Voucher Code SPRING19 at checkout.
The SPRING19 voucher code is valid until midnight 12/04/2019
Enter the voucher code at checkout to receive 5% off the total value of your order
Are You on the Mailing List?
Whenever we run promotions like the Spring voucher code offer we email our customers to let them know. If you're not on the email list you could be missing out! Sign up today and choose your printer ink brand and we'll let you know what we're up to and what our best selling products are. To sign up to the newsletter tock the box that says "I'd like to receive special offer emails" at checkout.
Have You Saved Your Printer?
To make life easier you can save your printer in your Just Ink and Paper Account. To do this first login to your account, select "My Printers" from the menu on the left and search for your printer by using the drop down lists under "Select Brand", "Select Series" and "Select Printer" and click Search. Once you have chosen your model of printer simply click on Save to My Printers. Now, when you log in to buy ink you just have to click on the "Buy Ink for This Printer" button from within your account to see all of the ink cartridge option you need.

Have any Questions?
If you have any questions about the Spring Voucher Code, our newsletter or how to save your printer and reorder ink. Email us at:sales@justinkandpaper.com or Call us at: 03300 375321 to speak to one of our team members.